Gull Lake Project - S.W. Saskatchewan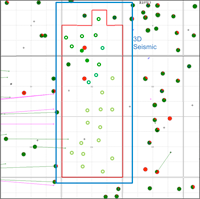 Jurassic and Cretaceous oil plays in the Roseray, Upper Shaunavon and Cantaur formations.
Proven plays produce medium (17-24 API) oil at high rates from relatively shallow depths and at low operational costs.
Vertically stacked pays help reduce risks and improve economics.
Vital is currently developing existing land leases and is further increasing it's land base.
Vertical and horizontal development planned.
2.56 sections (6.6km2) land with PNG surface to basement
7 Producing wells from Jurassic Roseray Formation and a Contuor channel at 1,000 to 1,200 m depth
Over 20 more drilling locations targeting three formations, identified based on new 3D seismic.
3D seismic coverage on 100% of lands
Vital is the operator and maintains a 50% interest