Penant Project- S.W. Saskatchewan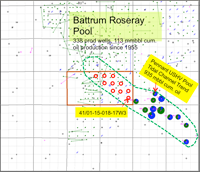 5.25 sections of land (3,360 acres).
Main target zone is Upper Shaunavon (USHV), secondary target Lower Shaunavon (LRSV).
USHV produces medium light oil (API 21.5o) from relatively shallow depth (around 980m).
Initial discovery well 41/01-­-15-­-018-­-17W3 drilled November 2014.
3 horizontal wells. One drilled in Q4/14 and two drilled in Q1/15.
1 additional horizontal well license obtained.
Easy surface access and close to existing infrastructure
3D seismic defined proven drilling locations
20-40 potential horizontal drilling locations.
Vital is the operator and maintains a 100% interest.